We've already determined robots aren't coming for your job [read this post on AI Content Creation if you missed it], but the advancements are coming fast and furious this year. The JH team has been keeping up with the trends and technology to see what offerings would best align with our clients and their goals.
How Our Design Team is Using AI
According to Josh Tuck, Senior Web Designer
In the design space we are focusing most of our attention on a small handful of AI powered tools; Microsoft's Designer, Canva, and Adobe's FireFly — an AI that stands on its own and is being baked into Adobe products like Photoshop and Express.
Even though we are not creating images from text, or utilizing its flashier abilities (yet), FireFly is proving to be a powerful tool for us. With it, we can change less than ideal provided images into something that will work perfectly on a client's website. Back in "ye olden days" (re: last quarter) we would cross our fingers and hope we could crop images to get something good enough; or change the layout to work with the photos; and if it was too small, we'd be out of luck. Today, we can quickly transform a portrait-oriented photo into a landscape and not spend hours painstakingly adding, for example, more trees on either side. FireFly will generate it automatically, or create what we tell it, where we tell it to do it, based on a text prompt. It also allows us to increase the resolution of an image with little noticeable loss of quality.
Time for An Example
Below is an original photo from a customer.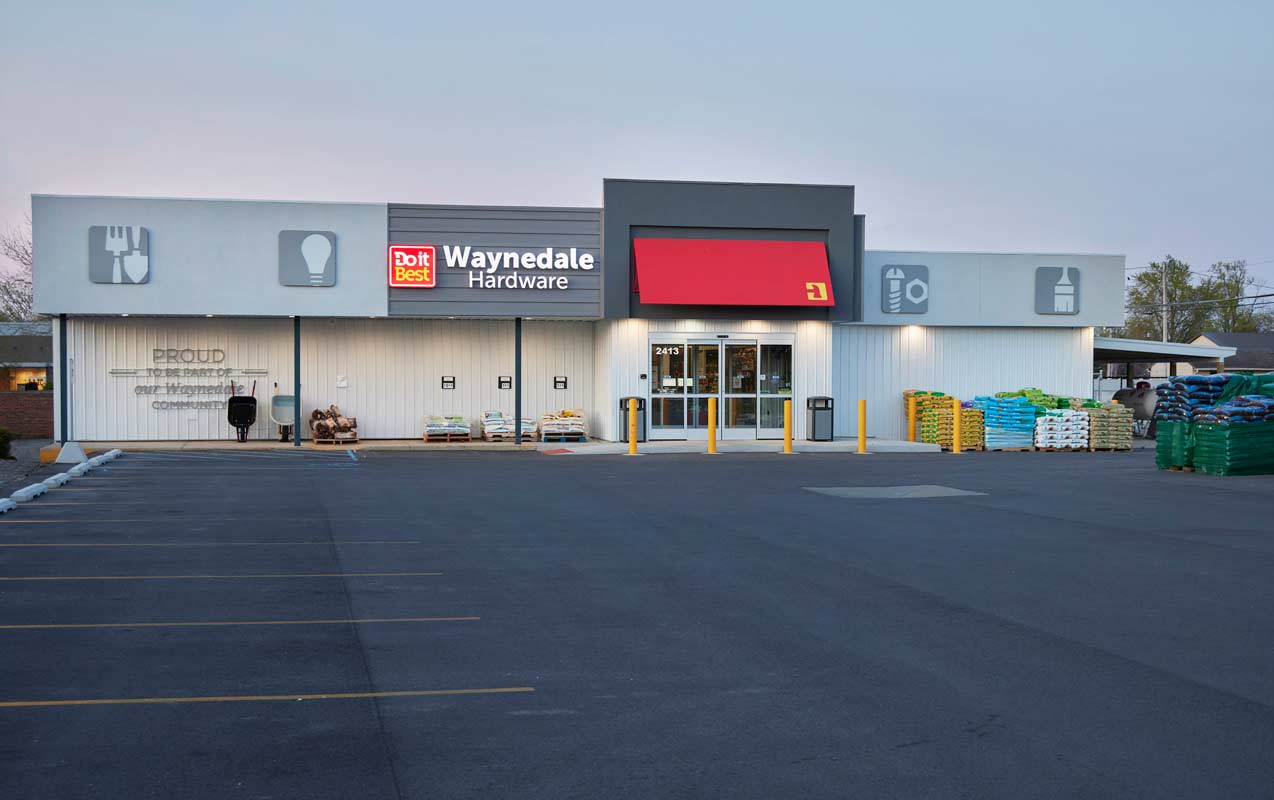 And here is the output after asking AI to extend the photo on the sides and view from further back. The orientation of this second image works well for a header graphic on a webpage which requires a wide but short photo orientation.

It's important to note that while the coolness of our shiny new toys makes them tempt us to show them off to our clients, we don't want to repeat the mistakes of the past. The digital revolution of the late 1980s saw everyone's graphic designer bragging about how fast computers made page layout and photo correction fast and easy. In short order speed, not quality, became what clients expected from us and we don't want that to happen again. JH has never been about quick solutions because they often aren't the right solutions.
So, while we are excited about the possibilities AI is unlocking for us, our goal is to put these new technologies to work where they make the most sense. A future where human designers spend our time thinking, advising, and designing, and letting the machine do the heavy lifting of production.
How Our Digital Marketing Team is Exploring AI
According to Harrison Diedrich, Director of Digital Marketing
In the digital marketing department, we've been starting to leverage AI for creating content and idea generation for our various campaign initiatives. The primary AI platforms we've been using are Chat GPT and Google Bard. We're excited to see how the AI's current capabilities for digital marketing evolve as it continues to become more sophisticated over time.
In their recent Google Marketing Live event (which I wrote about in this blog post, go read it if you missed it), Google showcased new tools aimed at helping digital marketers create ad assets powered by AI straight from the Google Ads platform. From developing ad text and images through an AI chatbot, creating AI generated Ad Copy based on user searches, to an AI powered product image studio to easily edit products for Google Merchant Center. Google is actively embracing AI and integrating these tools into their product offerings. We're planning on testing these new tools once they are out of Beta and see how they work in practice.
While these tools make generating content for ads and web pages a pinch, we recognize that we need to be careful with how we utilize these tools for our clients. Depending on the prompts provided or the questions asked, these AI tools can and often do provide inaccurate information. So fully relying on AI to generate site content is not a winning formula as it could compromise the credibility of our website. There must be room for interpretation of the information AI provides and editing the content to ensure its accurate and fits the tone and personas of our clients.
How Our Development Team is Hoping to Leverage AI
According to Tim Jones, VP of IT
The development team is looking to leverage AI capabilities to help our team scale and improve processes that were once cumbersome or difficult for new developers to learn. Google Vertex AI is one way we can leverage some of these technologies. Vertex AI has the ability for us to create efficiencies and analyze data which would free up our people to focus on other tasks. Best of all, we can tailor the tech directly to our own processes and needs which could open up our ability to automate testing.
We've also been exploring the use of programs to support content generation in our admin systems. You may have used Grammarly for grammar modifications in your personal or professional life, but we are looking at the ability to integrate a program like this directly into our Wombat Juice platform. Not sure what Wombat Juice is, check out this article.
Office 365 Copilot is a tool we've had our eyes on as an option to help manage projects and keep things organized. We are already a 365 company, so this would be an easy addition that the whole company could benefit from.
The biggest thing we are considering with any entry into machine learning is how to keep data secure. We aren't willing to put our own or our customer's data at risk just to utilize new technologies. Responsible AI usage is key for our team.
---
Some of the technologies referenced will probably be out of date 6 months from now and there are sure to be new innovations rolling in. We're committed to staying up to date with the latest trends and technology so we can support our client's needs and goals.