Why are Google Reviews so Important?
Google is the number one search engine, when a consumer is looking for a company, it's the first place they turn to. Having your business show with multiple reviews will:
Establish trust and credibility for your business and influence additional traffic to your website

Reviews allow you to stand out amongst your competitors. If you see two competitors side by side, one only has 5 reviews with a 4.7-star rating and the other has 146 reviews and a 4.6-star rating, who are you going to pick?
Boost your Search Engine Optimization (SEO)

Reviews help Google get a better understanding of your business and improve your relevance for products and services you want to rank for.

Keep a pulse on your performance

Google reviews are an easy way to see what you are doing good or bad, it's feedback straight from the consumer.
How Do I Direct Someone to my Google Profile to Leave a Review?
The best way to get a consumer to your Google Business Profile is to share a link to leave a review. Before I tell you how to get to the link, let's make sure your profile is verified. To respond to reviews you need to have a verified profile, if it isn't check out my previous blog to get your business verified.
Now that we know our business profile is verified, we are going to go to our business profile and select "Ask for reviews".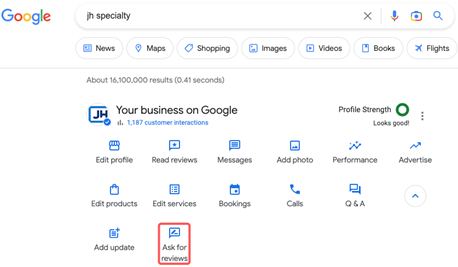 A popup box will open with a short link; this is what we will use to direct consumers to leave reviews.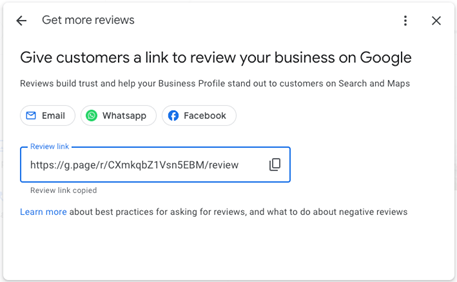 How Do I Ask Someone to Leave a Google Review?
Did you know that over 60% of consumers are likely to leave a review if the business follows up with a link asking for a review? It may seem daunting, and you might think "I don't want to bother them", or "If they want to leave a review they will". Well, I am here to change that narrative! Here are some quick easy ways to ask for reviews from your customers: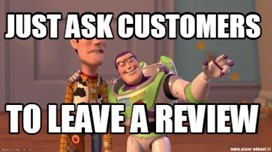 Ask in person - When you've had a positive interaction with a customer encourage them to leave a review. Have a QR code ready to scan to make it easy for them.
Create a follow-up text or email - After performing a service, wait a day or two and send them a simple, "Thanks for choosing us! We'd love to hear about your experience. Please leave us a review on Google. https://g.page/r/CXmkqbZ1Vsn5EBM/review"
Add it to quick touchpoints – Add a CTA to your receipts/invoices, website, or email signature to make it easily accessible to your customers.
Facebook Review Automated Message - If they have left a Facebook review set up an automated message saying "Hi, thanks for recommending us! We're glad you had a great experience. If you want to share your experience on Google, we would appreciate it. https://g.page/r/CXmkqbZ1Vsn5EBM/review"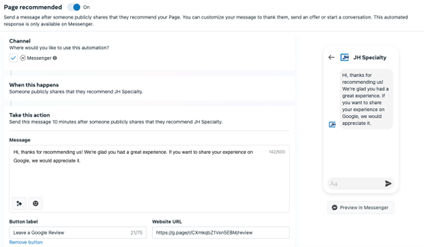 What Do I Do Once We Receive a Review?
When you get a review, be sure to respond to the good and bad comments. Your customers are taking time out of their day to share their experience with your business, you should do the same. It doesn't need to be anything crazy, but a simple thank you can go a long way! If someone leaves a 5-star review with no comment, you can thank them for the review and ask them to explain why they left that review. And if someone leaves a negative review, still responding to them is worthwhile. For instance, maybe a manager or owner may want to talk to them about their experience and offer them a discount or resolution for their poor experience.
If you get a great review that you are proud of, share your success on social media. Sharing positive experiences on your social media pages is a good way to improve brand awareness and increase customer engagement. Other customers may comment on the post sharing their experiences as well.
If you found this article or any other blog of ours helpful, feel free to also leave us a review to tell us how we are doing. (See what I did there?)