A Google Business Profile is a personalized profile you can add essential information, share photos, and show who you are. Customers can come and share their experiences with your company, get directions, give you a call and browse your website. This information is displayed in Google Maps and within Googles organic search results. Your GBP can be your first impression with the consumer, so it's important to keep it up-to-date with the latest information.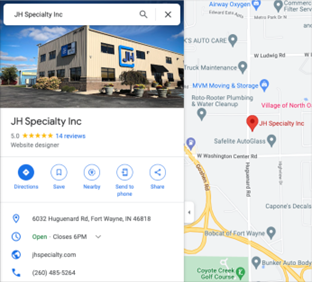 More often than not, business owners create their profiles but miss one key step, completing the verification.
How Do I Verify My Google Business Profile?
Most companies can verify ownership via phone call, text message, or requesting and receiving a postcard to your business address from Google. But those aren't the only ways! There are six different ways you can claim your profile. Let's walk through them:
Phone or text – Google will call or text you with a one-time code for you to enter
Email – A detailed email will be sent to your business email with instructions on how to complete the verification
Video recording – In one recording, you need to include the following

Your location – Step outside and show the surrounding business, street signs, and more to help identify your location
Business or equipment – Show your operations. Include marketing materials, stock, branded equipment, and other tools that you use to service your customers
Proof of management – Open a locked door, non-sensitive business documents, or enter employee-only areas or items
*Verification for this method can take up to five business days. Once verified, you can delete the uploaded video from your profile*

Live video recording – Like the video recording, you will show a live representative from Google your location, business, or equipment and proof of management
Postcard – Google will send you a postcard with a verification code. To confirm that your business is at the listed address, you must enter your unique code.

*It is important to note that you do not want to make any edits to your profile or request a new code during this time or else you will need to repeat the verification process*

Instant verification methods – Although it is very unlikely this is available, sometimes you can get lucky. Two ways to be eligible for instant verification are a verified website on Google Search Console or you manage 10 or more Business Profiles
If you are editing information, be aware that Google may request that you verify your business again. It will be beneficial for you to recognize the different verification methods and select one that you can consistently rely on. Google might also ask you to update your business info or give more details about your business from time to time but this is just to verify the information is up to date.
Google Business Profile is a quick, free tool to get your business out to the public. If you need help verifying or managing your Google Business Profile, contact your Account Manager or use our contact form to start a new conversation on this topic.
We are a proud Google Partner.