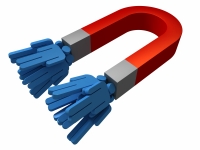 Promotional Products can give your business the edge over competitors and keep you in the forefront of consumers' minds. Every business should take advantage of these seven promotional products.
Let's face it; consumers today are bombarded with advertising and marketing from virtually every angle. From billboards to television, print media radio, and the internet, people are constantly flooded with ads. As a result. consumers have learned to tune out just about all of it. It's tough for a business to break through all of the advertising clutter in a way that gets the consumers attention and gets their advertising message across to potential buyers. The following seven promotional products are an effective way to do just that.
The aim of any promotion is to increase consumers' interest in your business. your business card should be an extension of this philosophy and incorporated into the promotional strategy. business card magnets and marketing magnets make this goal possible. Give a business card magnet to your business contacts and a marketing magnet to potential customers. The magnet will be hung on the nearest refrigerator, desk or filing cabinet, not dropped in a drawer to be forgotten like many other promotional brochures or flyers. People perceive magnets as a special, useful gift. the value of using business magnets results in your contact information being kept and viewed countless times after the initial interaction.
Utilizing a can coolie as a promotional product is a great way to create a springtime marketing buzz. It is the most effective promotional item you can buy in the hot summer months. the koozie is always a hit at any golf course, barbecue, sporting event, or trip to the beach. Why not play into this and gain priceless public exposure? Since so many people love and use coolies, your custom designed can coolie will be shown off all summer long, resulting in maximum exposure for your company. Giving your potential customer a can coolie is giving them a useful gift, meaning your brand will be thought of in a good light. A custom designed coolie us the most effective promotional item for the spring and summer.
Everyone uses cups. Stadium cups are a practical solution for your beverage holding needs at any launch event, gathering, or tradeshow. The stadium cup is a practical promotional product, they get used daily. The good thing about personalized cups and mugs is they make a great souvenir, meaning consumers keep your branded stadium cups. The plastic cups are especially popular in households with children. Plastic cups are used in a variety of ways, for their common use of drinking, as well as impromptu storage for small toys, crayons, pencils, markers, as well as snacks for children.
Create a memorable promotional with branded seat cushions. Seat cushions are seen at most sporting events, whether it be a little league, high school and even professional sporting events, there is something about a cold, or sizzling hot, depending on the temperature, aluminum bench that just does not sound appealing for the next three hours. By giving your consumers a branded foam seat cushion, they will carry it to every sporting event they attend. This means that your company will receive maximum exposure and create goodwill with consumers. A seat cushion is an effective promotional tool for all year round. no matter what the sport, the cushion will get used and your logo will be displayed for other fans to see.
Thunderstix are a hugely popular spirit item used at many sporting events. The inflatable sticks create quite the bang. Thunderstix are a great way to sponsor an athletic event of any other kind of event where a buzz needs to be created. The promotional noise makers have a large imprint area in which your brand information and logo will be displayed for all to see.
Answer the everlasting paper or plastic question with reusable, imprinted totes. The grocery tots promotes your business and brand as well as your eco-conscious attitude. As society becomes more and more environmentally conscious, consumers are looking for solutions. Why not give your consumer a reason to stop searching and use your branded grocery tote. While grocery totes are often used to promote grocery stores themselves, they can also be used as promotional merchandise by any company of any industry. the advertising a company will receive from recipients' future use of their customer reusable grocery bag will far outweigh the initial cost of purchasing them.
Promotional products have a wide variety of benefits for businesses including sales, increased product referrals, improved customer image as well as continual advertisement for the company. The most important thing to remember when selecting a promotional item, make it useful to the consumer otherwise your message will not reach your audience. Promotional products are a great way to break through the advertising clutter and create name recognition and goodwill with your potential customers.