Year-to-date, Waiter on the Way has recorded a 2.5% increase in total website conversions (completed sales vs. total website sessions). That number at a glance may not seem overwhelming, but for a restaurant delivery service who averages over 250+ deliveries per day, a 2.5% increase has contributed to an additional 10,000+ website orders to date, on their way to another record year!
So the next question might be: 'How did they accomplish this?'
For over 14 years Waiter on the Way has partnered with JH Specialty on a wide variety of projects including web design and development, email marketing, promotional products, print, SEM and SEO. At the heart of every customer facing project has been the goal of providing excellent customer service, convenience, and ease of use to their customers. Staying true to their theme, it only made sense for Waiter on the Way to invest in mobile and provide their customers with the best user experience and convenience all the way down to their phone.
In December of 2016, Waiter on the Way in partnership with JH Specialty, launched their fully optimized mobile friendly website that has been a primary driver in overall website conversions since being deployed. During this same time period (year-over-year), Waiter on the Way has also noticed a 3% increase in total website traffic from a mobile phone going from 57% up to 60% of their traffic today!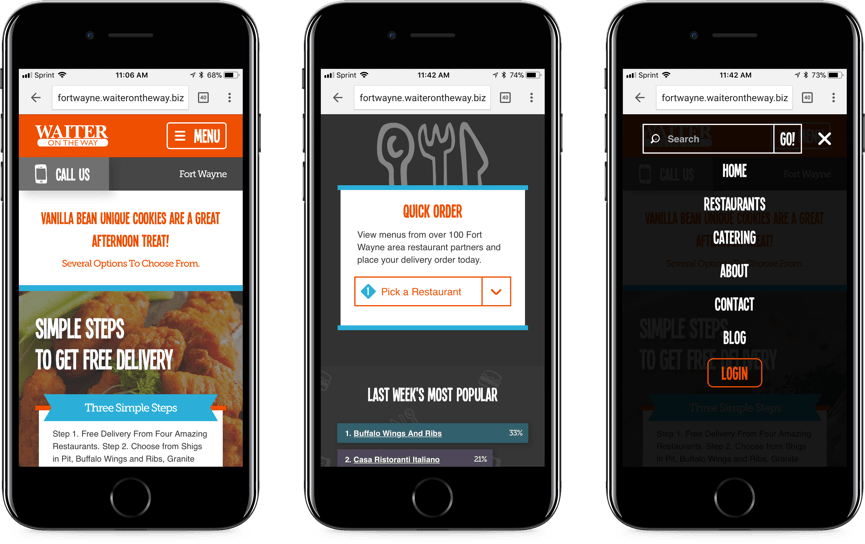 If that wasn't enough reason to go mobile, the decision to make this investment couldn't have come at a better time for Waiter on the Way with the looming Google update. This major update by Google will essentially separate out your search results from desktop and mobile devices, providing different results depending on the device being use. Naturally, as you may assume, they will be providing a higher priority / ranking to websites that offer their users an optimal mobile experience with searches coming from mobile phones.
JH Specialty takes pride in being 'A Partner You Can Rely On' for Waiter on the Way and looks forward to how we can continue to drive towards new business goals in the future. If you are one of the few who have not yet reviewed the new Waiter on the Way mobile site, check out the over 150+ menus they can deliver for and place your ONLINE order today at: http://fortwayne.waiterontheway.biz/