In today's day and age, people hunger for convenience. Why interrupt your day and drive to the store to purchase something when you can buy it online at a cheaper price and have it shipped right to your door? More people are shifting to online shopping for convenience and ease of access.
While making your products available for purchase online is a feat in and of itself, it still may not be enough. How are consumers supposed to find your online storefront in the sea of ecommerce competitors?
Thankfully there are MANY answers to that question, but for the sake of not being too long-winded we'll stick with one solution that fits seamlessly with Ecommerce websites – Google Shopping.
Advertise Your Products through Google Shopping
Google Shopping gives businesses with ecommerce sites the ability to catalog and advertise their Products on Google. When a user searches for a product similar to one you have indexed with Google, your product has a chance to show in the search results or Shopping tab.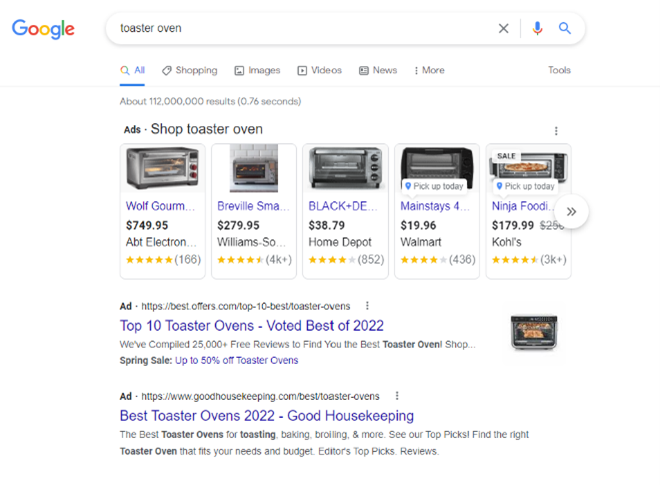 From here users can see your product description, price, reviews, with the end goal of navigating to your website to purchase the product.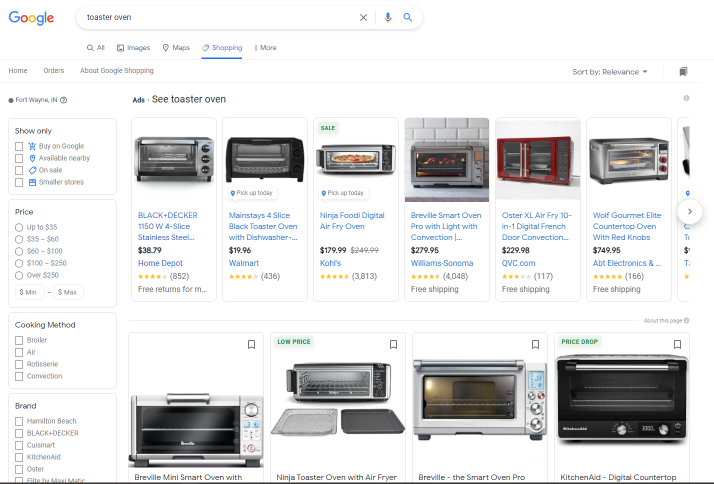 A key benefit of Google Shopping is the ability for both paid & free listings. If you don't have the financial resources to actively advertise your products, you can opt-into free listings. This gives you the benefit of your products appearing in the Google Search results without paying a dime.
It is worth noting that Paid Google Shopping Listings will significantly outperform their free counterpart, but it's nice to have both options available.
In addition to populating in the Search Results and a dedicated Shopping Tab, users can also browse and purchase products through the Google Shopping storefront. From here users can read product reviews left by previous customers, compare pricing from other retailers, and purchase products either on the retailors site or directly through the Google Shopping storefront.
Additional Google Shopping Programs
After uploading your product list with the relevant data, you can opt-into a list of additional Google Shopping programs to help get your products more visibility and increase purchases.
Outside of the Free & Paid Listings that we've already talked about, some useful programs include:
Buy on Google – Allow customers to purchase your product directly on Google with zero commission fees.
Dynamic Remarketing – Similar to a Remarketing campaign, Dynamic Remarketing for Google Shopping allows you to advertise your list of products to users based on their previous interactions with your site.
Local inventory ads – Show users which products are in stock at your store to help drive in-store visits and purchases.
Promotions – Offer promotions like %-off discounts and free shipping to your products to further incentive users to purchase your product.
Product Ratings – Have your product ratings visible on your product listings to give them more credibility.
Each of the Google Shopping programs have their own prerequisite requirements and steps to complete. Knowing when and how to leverage these programs can set your Shopping Campaign up for success.
The Impact Google Shopping Can Have
Instead of me just telling you about the joys of Google Shopping, lets talk about a real example of how Google Shopping can have a major impact on your business?
Farm & Home Hardware is a hardware, lumber and building material store with locations in Ashland & Wellington, Ohio. Being an all-encompassing local hardware store, they have thousands of products featured on their custom built e-commerce website ranging from power tools and DIY equipment to grills and appliances.
After around 4 months of running paid Shopping Ads, Farm & Home more than tripled their overall site users, saw a 1000% increase in transactions and over 1200% increase in online revenue *.
The below graph gives you a breakdown of the overall users so you can better visualize the impact of Google Shopping.

*Metrics compared to the previous 4 months of data
This All Sounds Great, Harrison, but How Do I Get Started?
That's a great leading question! If you have an in-house marketing team with an e-commerce website, you'd want to start by creating a Merchant Center Account and filling in necessary shipping, fulfillment and product information. Once you got a product feed generated, you could connect it to your Google Ads account and start running Shopping Campaigns.
Or if you'd prefer a more hands off approach and have your campaign managed professionally, we'd be happy to handle setups and maintenance so you can start advertising your products! Just reach out to our account management team and start the conversation.
As more customers turn to online shopping to make their daily purchases, having your products be readily available online becomes more of a necessity. Leveraging Google Shopping will allow your brand to get in front of new potential customers and help you increase online sales!