When St. Charles Borromeo Catholic Church contacted JH Specialty for help on building their website, they had one request: "Function first, design second." Entertaining designs and poppy letters are awesome and fun to look at, but getting the information out there trumps it all. Having a mixed demographic congregation, St. Charles asked for the information to be provided as easily and quickly as possible. So that's exactly what JH Specialty aimed to achieve.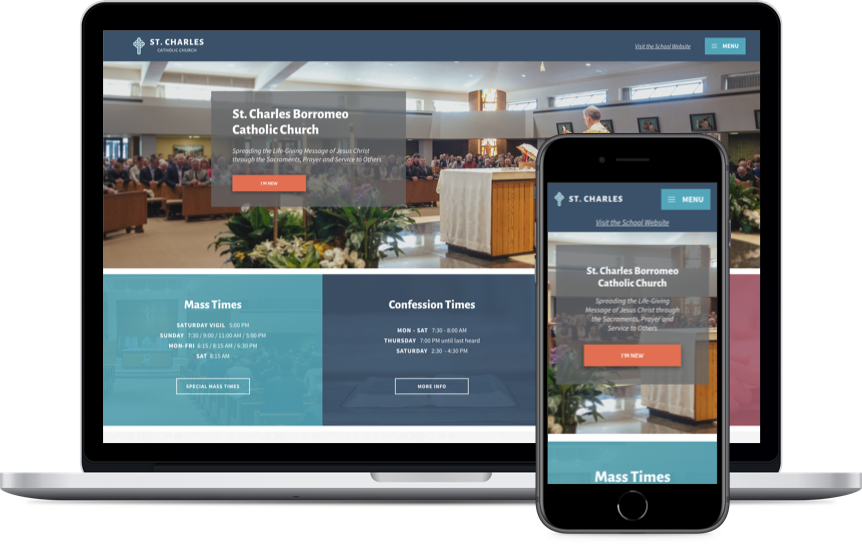 Although difficult, it is important for families to stay connected to the church. Creating a website that was accessible from any device was essential. This website is now completely mobile friendly for those constantly on the go, or on their phone. With a church that offers so many programs and committees, St. Charles wanted an organized and easy way to navigate their website. Offering sacraments such as weddings and funerals, information on the Parish, and different faith formations ... St. Charles now has a website to show it all. Working with JH Specialty allowed St. Charles to reach people of all ages, those who are busy, and given them a chance to stay connected with the community.
---
"JH Specialty designed our new parish website. We had a great experience with them. They listened carefully to our ideas, offering professional feedback and then a good design. They were patient in training us to add materials and update the site, and they were very helpful in making changes as the site took shape. I would definitely recommend them."
- Fr. Tom Shoemaker, pastor St. Charles Catholic Church
---
Check out the new St. Charles Catholic Church website here or view other completed projects in our portfolio.