Primco not only wanted to build a website that would bring exposure and industry awareness to their company, but they also wanted to offer contractors an easy and efficient method to find and bid on project proposals. Primco partnered with JH Specialty to complete the website design and development process. It's not every day that JH Specialty gets to work on a first time website for a company with such a long history.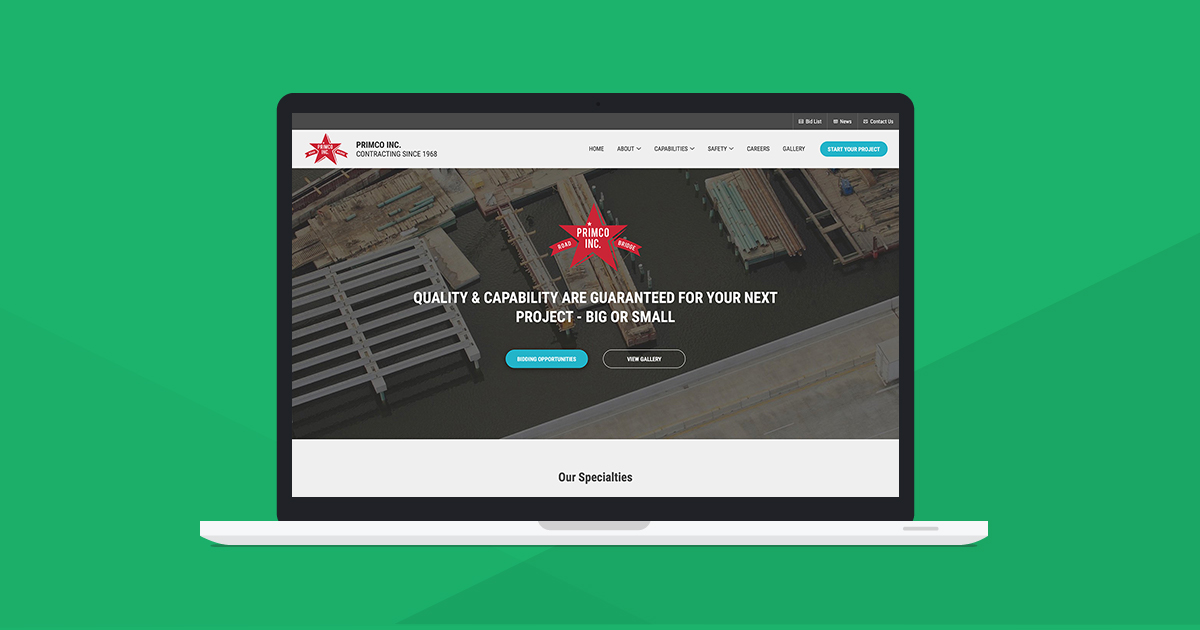 Primco's new responsive website highlights their various capabilities and their gallery displays images from previous projects to promote their high-quality work. The site is was also designed to provide easy access to the Bid List. The Bid List allows Primco to be more productive, by decreasing the manual time it would take to promote their job to contractors.
After launching the site, Primco Inc. provided the following positive feedback:
"Working with JH Specialty, Inc. was a true piece of cake. Our project leads Allison Nicklin and Chris Polhamus did a fantastic job of understanding what we wanted in a website and helping to guide us in what will make the website stand apart and also be the most user friendly / functional as it possibly could. Since we wanted our website to co-inside with our 50th year in business there was a time frame for the project to be completed. The JH team did a great job of keeping things moving, even when the ball was in our court to get them information. In the end the project was completed on time and ready for our 50th year. All of us at Primco would like to thank the JH team for all their hard work on this project, the website turned out better than we hoped." - Joe Thomas, Director of Operations
---
Primco Inc. specializes in Bridge Construction and Rehabilitation, Structural Concrete and Walls, Commercial Concrete, Curbs, & Streetscape, Concrete Road Construction, Foundation & Piling, Driving & Sheeting, Earthwork & Site Development in Indiana, Michigan and Ohio.
JH Specialty encourages you to explore the new web design completed for Fort Wayne's Primco Inc. either through our Portfolio or visit the website for yourself at www.primco.net.