What are featured snippets?
On Google, a featured snippet is an informational box shown above search results. They are often referred to as Search Placement #0 since they load before the normal first page 10. Content for featured snippets is pulled straight from web pages that usually rank within the top 10 for the searched keyword or phrase.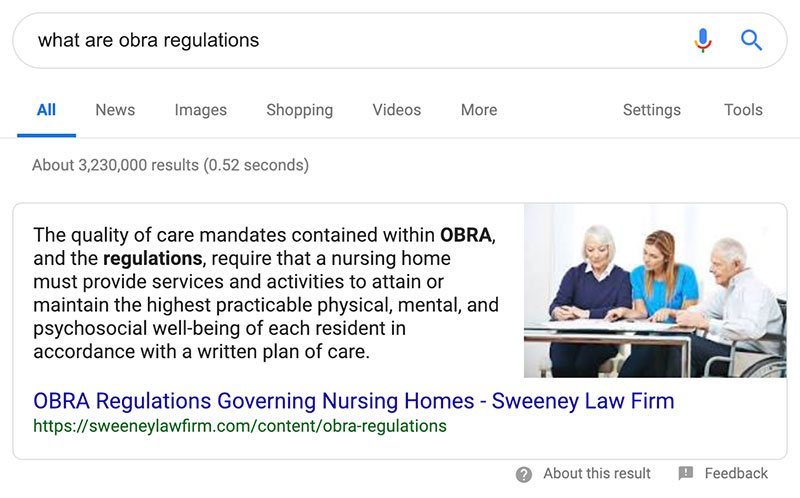 It is important to note the difference between featured snippets and knowledge panels. Knowledge panels load adjacent to search results on the right-hand side, while featured snippets load on top of organic search results. The most common types of featured snippets are tables, short paragraphs, and lists, with paragraphs being the most prevalent.
Why are featured snippets useful for SEO?
When a query produces a featured snippet, it is the first thing shown. It appears before traditional search results and is presented in a separated, outlined box above those results. The snippet serves as a preview of a webpage with the searched keywords emboldened (underlined in red in the example below). The page title and url are shown below the snippet text (outlined in blue).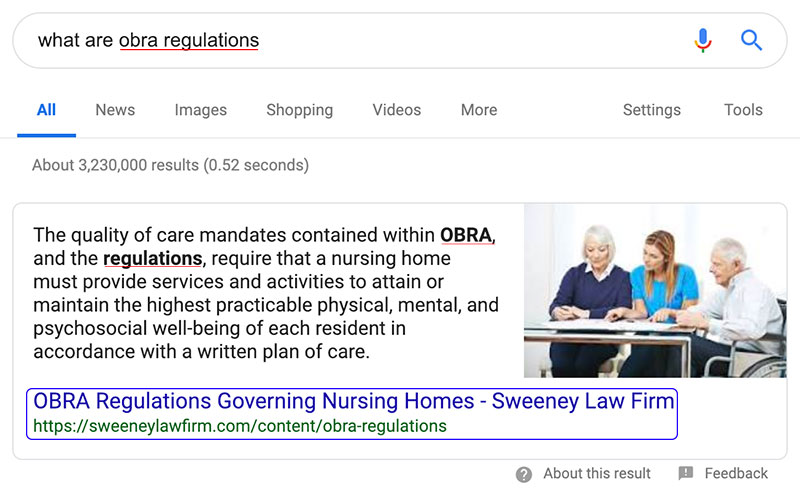 It should be apparent that appearing as the top, featured result for a query would establish your site as immensely credible and encourage more clicks. If Google trusts your page enough to answer a question within the results page, users will trust your site to gain more information about their query.
One of our partners, Sweeney Law Firm, has seen recent snippet success with the help of SEO Services offered here at JH Specialty. In addition to the above example of OBRA Regulations, they have also earned a featured snippet for Anesthesia Malpractice.

How to optimize for featured snippets
Snippets are especially popular for long-tail queries with interrogative intent (aka a question). Recipes, numbered or bulleted instructions, health and law definitions, and tutorials are favored for snippets as well.
A great way to optimize for a query, such as "What is OBRA?" is to use the question has the article title or as a page header (H1, H2). Then, immediately answer the question underneath the header or title. You can elaborate further later in the article, but Google is looking for quick questions and answers. Make sure to include the targeted keyword in both the question and in the answer. An example of an optimized blog post is shown below.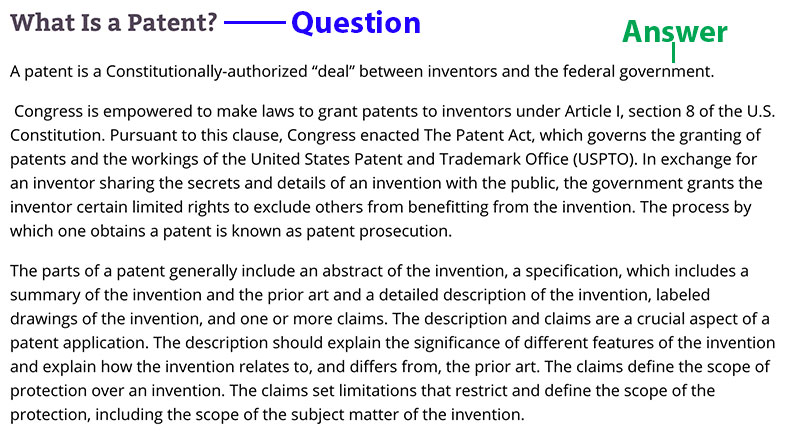 Tips and tricks for featured snippets
Optimize keywords for which you already rank in the top 10;
If Wikipedia already has the snippet for a keyword/query, it will be nearly impossible to beat them out;
Aim for approximately 45 words and/or 300 characters in your paragraph answer, 4-6 list items, or 3-4 rows and 2-3 columns for tables;
For snippet optimized pages, include your logo on all images for added brand recognition. Images often accompany paragraphs, lists, and tables in snippets.
How to track snippet success
Tracking snippet success is the most logistically difficult part of the optimization process. A few third-party SEO tools, such as SEMRush, search for featured snippet potential and performance. If you're tracking performance on your own, the best way is to search for the optimized keyword incognito every few weeks. After you've optimized a page, you can submit the url to be re-indexed on Google Search Console, which should help expedite any upward movement in the SERPs.
Optimizing and tracking snippet success can be a time-consuming effort. If you are unsure where to start, start a conversation, we'd be happy to help!