Neighborhood Health Clinic, Inc. (NHCI) received a grant that was designated for spreading the word of their organization so that they could help more individuals within the community.
Together JH Specialty and NHCI worked together to devise a 9 month multi-channel marketing campaign to reach potential clients at multiple touch points. Facebook Ads and Google Adwords Search Marketing were determined to be the best mediums to reach their target market.
---
Facebook Ads
Three different Facebook Ad campaigns were created and implemented over the 9 month campaign. These ads included 2 Carousel Ads and 3 Individual Ads. Each ad campaign had a slightly different message.
Ad #1
Our main goals for this Facebook Ad was to show how NHCI can help our target market and educate them on all the services NHCI offers.
We utilized customer centric copy such as "Your needs", "Your health", "Offer you", etc. to engage our target market. To continue movement through the Carousel Ad, we developed the tagline "Check in. Check Up. Check us out!" to tell the story of a patient's journey through NHCI. A video was created to encourage engagement with the Facebook Ad, while also displaying that the services and facilities they offer are of quality. Learn More buttons were used as the CTA to encourage our audience to continue their interaction with NHCI. The Learn More buttons linked to the appointment landing pages.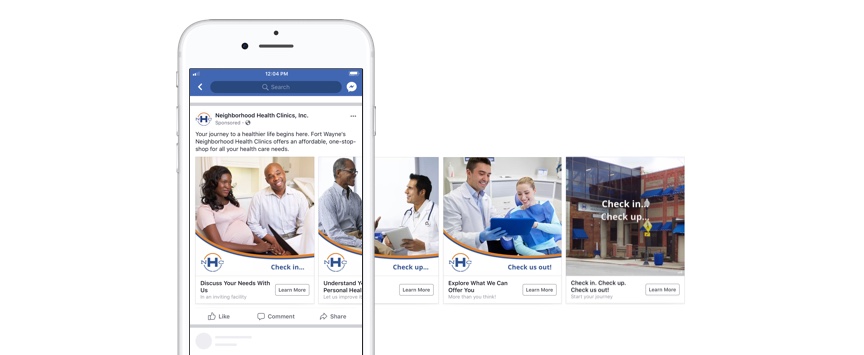 Ad #2
After gaining further insight into our target market, the main goal for the second Facebook Carousel Ad was to display the convenience that NHCI can offer busy families. Where else can you find your Family Doctor, Pediatrician, Dentist, and Optometrist all under one roof? Instead of the stock photography that was used in the previous ad, professional images of the facility were used to further develop the brands image.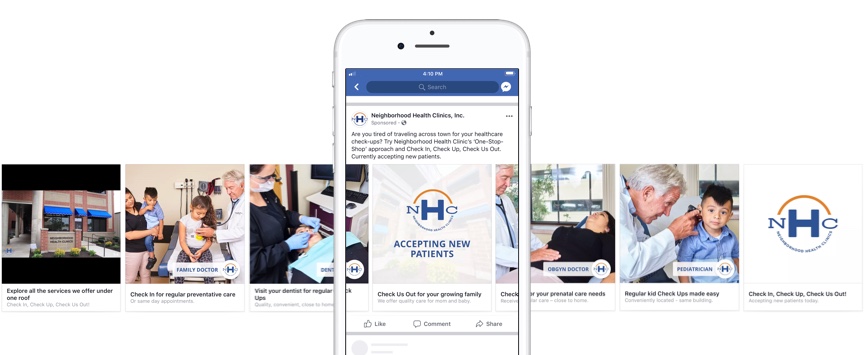 Ad #3
After two successful Facebook Carousel Ad campaigns, we decided to utilize multiple single Facebook Ads to create the third campaign. The ad copy was developed with short but memorable health tips and were numbered to encourage Facebook users to "look" for the other ads. The health tips provided useful information for consumers while still encouraging them to schedule an appointment with NHCI.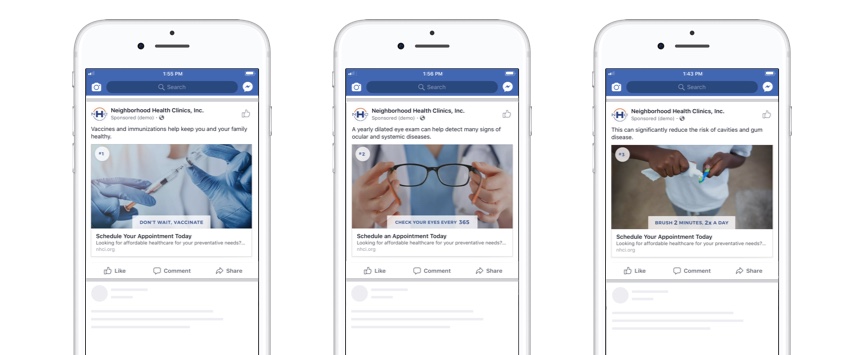 ---
Google Adwords - Search Marketing
Google Search Ads were displayed in tangent to the Facebook Ad campaign. Best practices were used when setting up the Adwords Search Campaign, and a variety of optimization techniques were preformed over the course of the 9 month campaign.
JH Specialty is a Google Partner, which demonstrates that we has the skills and expertise required to execute a successful campaign in Google Adwords.
---
After a successful 9 month multi-channel marketing campaign, we received the following positive feedback from NHCI.
"Working with JH allowed us to expand our marketing beyond our internal ideas in to new avenues, creative content, and an expanded social following." - Cathy Pollick, Outreach and Enrollment Coordinator
---
Neighborhood Health Clinic, Inc. (NHCI) begin in 1969 and has grown to offer a full range of primary Medical, Dental and Optometry services as well as WIC nutritional services. NHCI is unique because they offer their services to everyone regardless of income or insurance coverage.