A prospective customer is looking for a new provider or looking to gain more information about your business. Where do they start? Google.
Everyone does it. It's become the default for finding information and companies around the globe. But have you looked at your presence on Google? What does your listing look like? Is your information accurate and up-to-date? Did you even know you had a listing you can manage on Google?
Google My Business allows you to manage your listing on Google and show the most important information immediately to someone looking for your company or a product/service that you offer. Everything from the name, location, phone number, hours of operation, photos and even a virtual tour can be managed through Google My Business. Obtaining access and control over your listing allows you to put your best foot forward. Let's be honest, many prospective customers are going to see this listing before they even see your website. Before you can wow them with your amazing website (if you don't have one of those, let's talk) your listing should be a shining reflection of your business.
If you already have control over your listing, great – get started adding content today! If not, you'll need to take the steps needed to gain control of your listing. This can be a multi-step process if a prior agency or owner had access and you need to obtain it from them. Otherwise it is pretty straight forward. All you need is a Google account to get started.
Not only can you manage the information your prospective customers are seeing, but you can gain additional insights to who is looking at your listing and how many times it has been viewed.
In addition to basic information about your business, customers can post and read reviews of your business. In a 2017 study, it was shown that reviews affect 7-13% of your organic ranking with Google. That may not seem like a lot, but if you and a competitor have all other factors equal, then reviews could be the determining factor in who ranks higher in local listings. Asking satisfied customers for a review is easy. In fact, we've made it even easier by creating a step-by-step guide that you can email or hand out to your clients on how to write a Google review. Responding to reviews (negative or positive) go a long way in showing prospective customers that you care and are committed to providing a great product or service.
A new feature that Google My Business has recently released is Posts. These posts display on your listing and allow you more real estate to feature your business. You can share articles from your website blog or share upcoming events and promotions. These posts will stay live for seven days and events will stay live until the event is over. This is a perfect way to showcase some highlights from your business.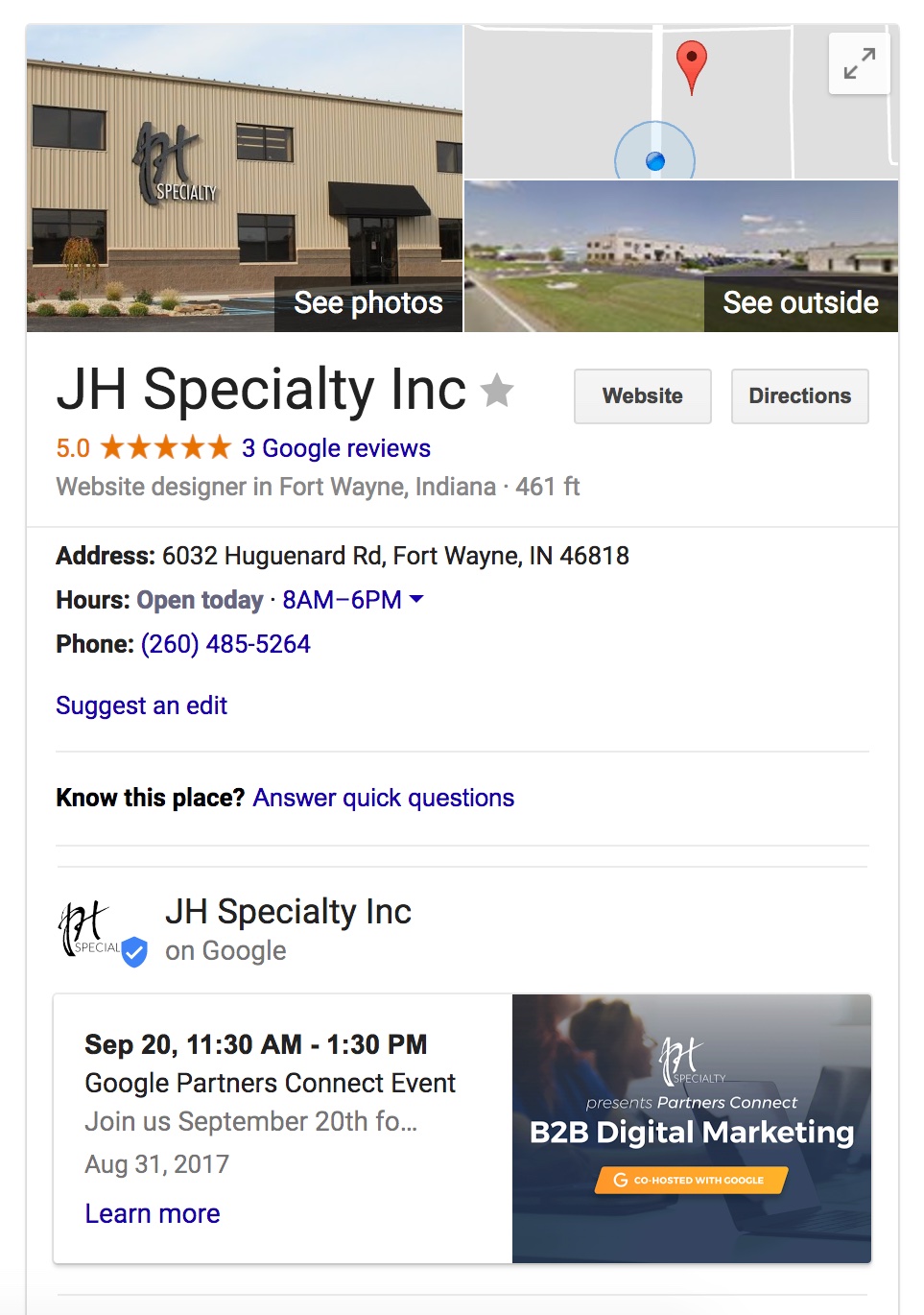 So what are you waiting for? Get control over your Google My Business listing and get your business noticed with accurate information. If you need help getting there, we're always available to help!