At the first annual Swagger Awards Luncheon hosted by The Fort Wayne-Allen County Economic Development Alliance JH Specialty was recognized as the winner in the Small Business Division. The awards were given to recognize companies that have grown in Fort Wayne-Allen County.
This was the first year for the Swagger Awards, which was attended by over 220 guests, including Mayor Tom Henry and Allen County Commissioner Nelson Peters. The awards were created by the Economic Development Alliance to honor the 38 companies that have expanded in 2009.
Six companies were recognized in their respective categories as winners of the Swagger Award. The companies announced included: Rothberg, Logan & Warsco for the Downtown Development Award; BAE Systems for the Sustainer Award; Group Delphi for the New Business Award; Swiss Re for the Redevelopment Award; JH Specialty for the Small Business Award and Brotherhood Mutual for the Business Expansion Award.
"The Swagger Awards have been a tremendous success because we accomplished what we set out to do, which was to pay tribute to companies that are working hard and continuing to grow during a time of economic uncertainty," stated Andi Udris, Alliance President. "Many people were brought together for this event because they recognized the importance of honoring the companies that are creating jobs and opportunity for our community."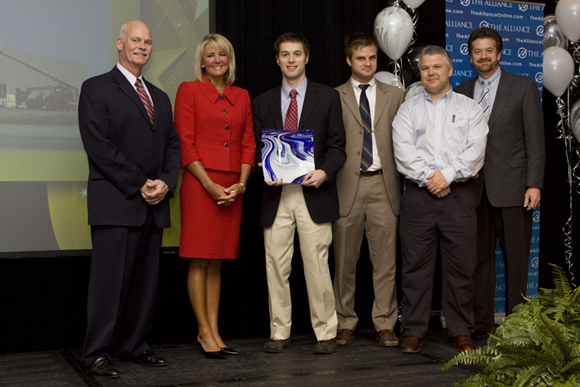 From left to right: Nelson Peters (Allen County Commissioner), Melissa Long (News Anchor, Indiana's News Center), John Henry III (President, JH Specialty), Patrick Florea (Senior Account Manager, JH Specialty), Troy Lewis (Director of Online Sales, JH Specialty) and John (JJ) Henry Jr (Sales Professional)