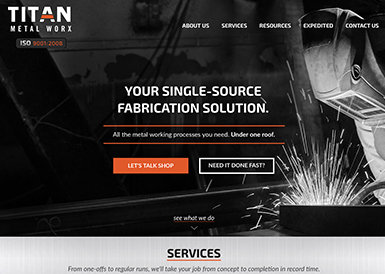 JH Specialty is happy to announce the launch of a new responsive website for Titan Metal Worx.
Titan Metal Worx is a premier machining and fabrication services provider located in New Haven, Indiana. Titan Metal Worx is a fairly new company, founded in 2012, that was looking to spread the word of its ability to handle virtually every component of the machining and fabrication process. JH Specialty partnered together with Titan Metal Worx to accomplish this task by designing a user friendly responsive website.
JH Specialty's web design team worked hard to make the Titan Metal Worx website exceed the customer's expectations. Some of the design highlights include the use of video to help share the diverse offering at Titan. Also, it was important for Titan Metal Worx to highlight their expedited services. One of the reasons that the company has all of these related services under one roof is they were frustrated with the current turn times found in the market.
A key goal for the organization, like many JH Specialty clients is to educate online users enough for them to qualify themselves, and then contact Titan Metal Worx to discuss additional details. The site was built in a fashion that makes it very easy for an online user to reach out via a quick contact form or phone.
JH Specialty encourages you to explore the new Titan Metal Worx website at www.titanmetalworx.com, and imagine how JH Specialty could make a website work for you.