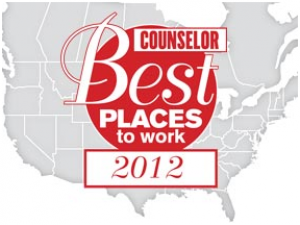 JH Specialty is no stranger to Counselor Magazine's Best Places to Work. For the fifth year in a row, JH Specialty, Inc., a full-service marketing and communications firm based in Fort Wayne, has been included in Counselor Magazine's list of the "Best Places to Work." This year, JH Specialty ranks number 8 out of the 85 U.S. companies earning honors. This is the first time JH Specialty has cracked the top 10; however, the company has always been a strong contender.
More than 300 companies completed the initial nomination process. Ultimately, 150 companies were chosen to have their employees' participate in the in-depth survey. The survey focused on 10 different areas of the workplace experience: team effectiveness, employee loyalty, alignment with goals, trust between coworkers, recognition of employees, manager effectiveness, trust in senior leaders, feeling valued, satisfaction with current role and satisfaction with company benefits.
In surveying more than 4,000 employees, the feedback was clear, "the key to creating a great workplace culture is to ensure that everybody in the office is as informed as possible," and communication flows freely (2012 Best Places to Work).
JH Specialty has created a fun, yet hard-working team atmosphere in which team members are empowered through knowledge and communication. JH Specialty develops a strong team atmosphere by encouraging the development of commodore between employees through hosting new employee parties every few months. Team members get to know one another over food and drink. The company even hosts its own hot wing eating challenge.
JH Specialty makes it known that the company cares about its employees. As part of the employee review process, managers use what the company refers to as a roadmap of each employee to understand the individual's personal goals and points of motivation.
"We've grown our team and business substantially over the last year. Our previous successes and our future depend on communication and the happiness of our team, says founder and CEO, John Henry III. They are the people who make the difference in our business every single day. Being recognized as one of the top Best Places to Work in 2012 is a great honor and we are proud to be number eight this year."
To learn more about Counselor Magazine and review the published article, please visit this link: 2012 Best Places to Work