Blackstone Laboratories is a locally owned and operated oil analysis laboratory that has been providing unique solutions to engine diagnosis since 1985. Their business has grown exponentially in the past twenty-four years based on one core principle: Provide an easy-to-use, understandable and accurate oil analysis program with the fastest turnaround in the industry. The success of their approach is realized through a mixture of ICP (inductive coupled plasma) spectrometry, database averages for comparing wear, and an expansive comments section on each report that explains (in plain English) what your results mean.
| | |
| --- | --- |
| What is Oil Analysis you ask? | Oil Analysis is a quick, nondestructive way to gauge the health of an engine by looking at what is in the oil. |
Since the launch of their original website in 2000, Blackstone Labs has grown from receiving 1-2 Test Kit Requests per day to upwards of 30-40 orders per day. This growth, along with the ever changing technological advances, prompted Blackstone to contract with JH Specialty to enhance their online identity.
After countless hours of planning, communication, and enthusiastic effort by both parties, all project goals and initiatives were met (or exceeded), and Blackstone's new website was launched. Since the deployment of the new website in late August, Blackstone Labs has received numerous compliments from their customers and are very pleased with the finished product.
Kristin Huff, Vice President of Blackstone Laboratories states:
I am really impressed that you [JH Specialty] went above and beyond with this [project]. We've been very happy with JH Specialty and have gotten a lot of nice comments from our customers on the new site. [JH Specialty] was very patient with us the whole way through, and especially me and my nitpicky ways. I will definitely recommend JH Specialty to people, because [they] have been really great to work with.
The website is simply another success story for a local Fort Wayne based company who is maximizing the potential of the web, and establishing their online identity. You can visit the new website at www.blackstone-labs.com . We encourage you to take a look around, and if you would like to learn what is going on in your engine (car, truck, boat, plane, or motorcycle) send Blackstone Labs an oil sample for your analysis - to get started, simply fill out their 'FREE TEST KIT' request form online and they will send you a sampling kit in the mail today!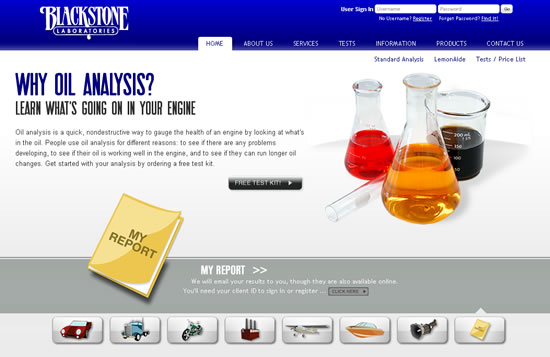 (click on image to visit their site)