Marketing is a crucial and vital part of your business. It is important to understand that even if you have text that is innovative and state of the art graphics, if your customers can't understand the message you are saying, then it is all worthless. Sometimes, business owners make the mistake of trying to be so clever and innovati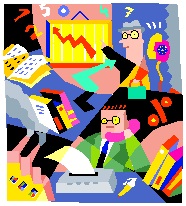 ve with their marketing, that they make it impossible for their customers, to understand their marketing. Every aspect of your marketing should compel your customers to buy your product or service.
Good marketing is about establishing a relationship with your customers. Within your relationship, you want to be able to educate them about why they should pick your company's product or service. When you take the time to consider every aspect of your marketing plan, it can pay off in far bigger returns. Here are the steps for more effective marketing-
1. Create a marketing budget. True or False: Spending more money will get you better marketing? The answer is false. Many businesses make the mistake of thinking that they have to match the marketing budgets of their larger competitors. No matter the size of your company, if you don't have a marketing budget, it is unlikely that you will create effective marketing. Remember that the core of your marketing should be about finding your niche marketing and then educating them about why they should buy your product or service. With some creativity and planning you can make that happen, even without a sky high marketing budget.

2. Be an attention getter. Everyday consumers are confronted by literally hundreds if not thousands of marketing messages. You must be able to find a way to position yourself above the competition. Every company has competition no matter how unique their product or service. The key is to find a way to position your business above the competition. It is only when you can do this successfully, that your target customers will understand that they should buy from you.

3. Understand your target market. If you have taken the time to find out about your customers likes, dislikes, habits, demographics and buying preferences, you are much closer to knowing how you should market to them. Once you have done sufficient market research to understand what your target customers are after, you can then design a marketing message that addresses their needs or wants. It is important to understand that no one company can be everything to everyone, however, you can find the potential customers who are far more likely to buy your product. Finally, your marketing message must present a sense of urgency, as you offer the solution to their need or want. You should keep in mind that your marketing message must be compelling enough so that your customers will not leave your site or your store without making a purchase.
4. Keep it fresh. If you are constantly putting out the same old, stale, marketing message, most likely your customer will quickly get bored with what you have to say and move on. You want to make sure that your marketing presents both your company and your products or services, in the newest and freshest way possible. If you have no new information to share with your customers, you need to make sure you are sharing old information in a new and innovative manner. One possible solution is to think about using promotional products such as, custom printed playing cards, promotional magnets for your business, or custom can coolies which are always a summer hit, as one way of getting your business noticed.
Contact JH Specialty, Inc. today to start a successful marketing campaign for your business.