Are you wondering what a Google Business Profile is? You may have formerly known it as a Google My Business (GMB) listing. But in true Google fashion, they have changed the name.
I'm going to assume you already have your listing claimed, if not, that's a conversation for another day! Here are the things you must do on your Google Business Profile.
New Update: You can now manage your listing directly from Search or Maps which really just means it's more convenient for businesses to manage their listing.

Keep your profile up to date
If you learn nothing else, please act on this piece of advice: Keep your listing up to date!
There is nothing more frustrating for a consumer than finding wrong information about your business. This means your hours, contact information and other basic information should be 100% accurate. Businesses who keep this information updated are going to be the winners in a consumer's mind.
Look at these stats from research done on updated Google profile listings:
70% more likely to attract location visits
50% more likely to lead to a sale
Users can submit revised information to Google and without your approval, this information can be automatically changed by Google. Regularly checking that your information is accurate is very important!
Use the features you've been given
As with most Google platforms, they reward users who use the features they provide. Fill out all the fields. Create posts. Engage with comments. Share photos. Add products. List your services. If you don't have a website, create one! Your goal should be to see "100%" on the "Complete your Business Profile" indicator.
Check your insights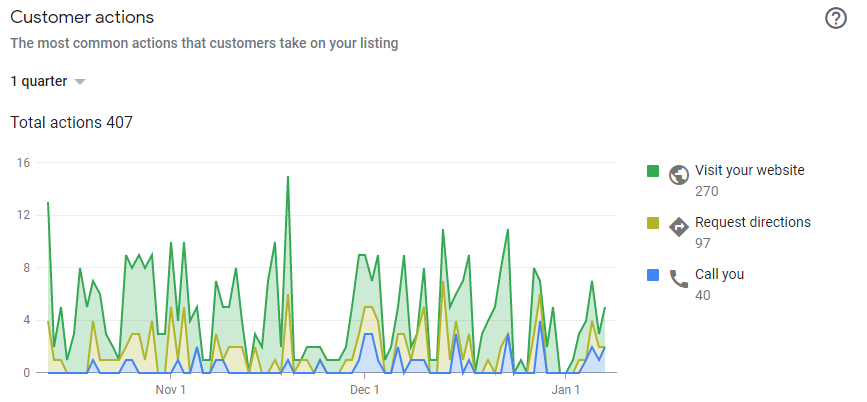 Not only does Google let you share all this information about your business, but they let you see how your business is performing. The Insights section gives you a chance to see how people are finding you, what actions they are taking, details about photos and more. Use this information to make additional updates to enhance your business listing.
Fun fact: Businesses with photos get 42% more requests for directions!
Link Your GBP to Google Ads
Make sure your Business Profile is linked to your Google Ads account. This allows you to use extension features like Get Directions to enhance your search ads. This is really easy to do if you are using the same Google login for both your profile and Ads account.
---
One More Thing ...
It would be silly to end a post about Google Business Profiles without asking you to leave us a review on ours. Reviews are one way for businesses to really stand out amongst their competitors - thanks for helping others make the choice to partner with JH!