How many business cards do you have in your desk right now? Better yet, how many business cards have you tossed because you didn't want another piece of paper laying around? The answer to both these questions is probably more than you'd like to admit.
Giving your business information or contact information to someone doesn't have to be boring. Here are 10 creative solutions to "Let me give you my card.".
Magnet
Let's start easy – same shape, same size, but more likely to stick around (quite literally!). Putting all your contact information on a magnet is ideal for any business or professional. Plus, who couldn't use an extra magnet! (Buy Now)
Poker Chip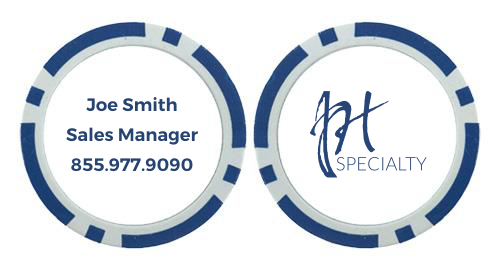 What better way to ask someone to take a chance on getting a quote or placing an order with you? Everything about handing out a poker chip will make you stand out in a sales situation.
Microfiber Cloth
You need more room than a magnet offers? A microfiber cloth offers a full edge to edge decoration to let your name shine. Get the optional plastic sleeve and these are no harder to carry around to hand out. Eye doctors, technology companies and more would all benefit from handing out these cloths. (Buy Now)
Lip Balm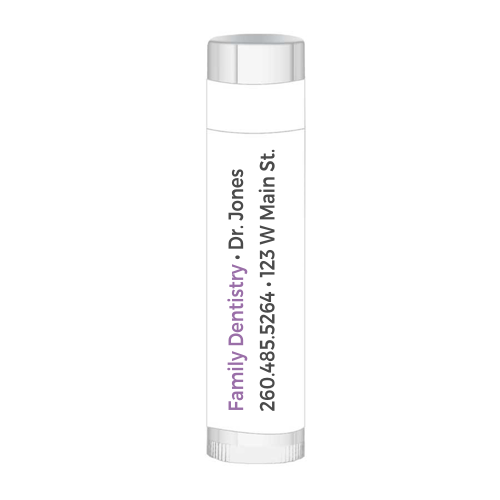 Your purse, bathroom, junk drawer, desk drawer and/or pocket probably have a at least one of these hidden inside. Make your business information have staying power! Perfect for salons, spas, dentist offices or any business geared towards moms.
Flying Disc
Have a fun, outgoing personality? Make your new "business card" match your personality! Realtors or lifestyle enthusiasts can use a flying disc or collapsible flyer as an excellent alternative to the norm. (Buy Now)
Bottle Opener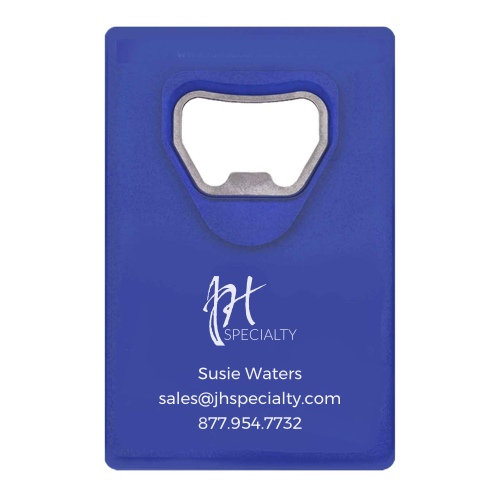 "Let's meet over drinks and continue this conversation." A credit card sized bottle opener can be conveniently stored in a wallet and comes in handy quite often. Whether you want to open an old-fashioned bottle of Coke or your favorite cold brew this is one card that will make it hard for the receiver to toss. (Buy Now)
Credit Card USB
If you need to leave behind more than just your contact information, then a credit card USB is a foolproof idea. Lawyers, manufacturing and sales could all benefit from this option. Leave behind sell sheets, a proposal or some fun history of your company. Pre-load or load before your meeting so that your prospect has everything they need to make an informed decision, right in the palm of their hand. (Buy Now)
Seed Packet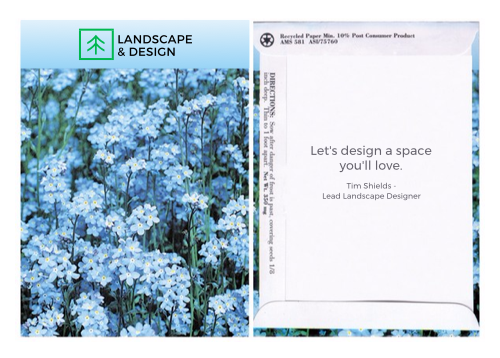 Everyone from landscapers to the environmentally conscious will appreciate this idea. Throw in a "let's grow together" theme and this unique way to give out your information has new life.
Silicone Bracelet
Fitness gurus and kid-centric establishments love to get their motivational messages out to everyone. Why not give some inspiration and your basic contact information in a fashionable way? Dance studios, gyms, running clubs and kids gymnastics could all use a bracelet to keep their participants in close contact. (Buy Now)
Nail File

If women are your target audience – that's you; salons, spas and wellness centers – then consider placing your digits on a nail file. Your name is literally at their fingertips and ready to make a call.
There you have it, 10 ideas that are not a traditional business card. If one of these ideas sounds like you or you want to brainstorm other alternatives, give us a call! We'll be waiting to help you stand out among the business card stack.