Article by Jennifer Blomquist,BusinessPeople
Since 1998 JH Specialty has helped businesses of every shape and size develop creative campaigns that are solid in concept and easy on the bottom line.
"I was a sophomore in college at Indiana University in Bloomington when I started selling t-shirts to the Greek community," says John Henry III, CEO of JH Specialty. "After college, I worked out of my mom's house and slowly, but surely, grew my business."
That explains the birth of JH Specialty, now located in an 11,000 square foot building on Huguenard Road on Fort Wayne's northwest side. Henry's company has become notorious for promotional items such as t-shirts, plastic cups and anything else you could put your name on. While that still accounts for 40 percent of his business, the other side of the story is the technology factor.
"A lot of people don't realize that we've made a name for ourselves when it comes to website and applications development, content marketing and social marketing," says Henry. "We do it all and we do it with what we call 'white glove service.'"
Henry, along with Chief Operating Officer Jason Knothe and Chief Technology Officer Tim Diefenbach recently spent time with our writer, Jennifer Blomquist. The following is their conversation.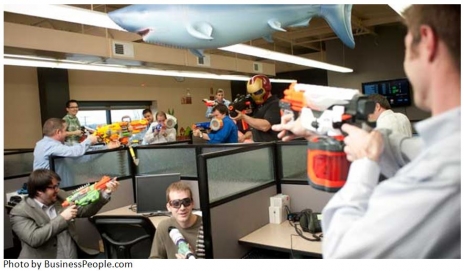 Blomquist: What do you mean by "white glove service?"
Henry: White glove service parallels that of a concierge. When you call a concierge, you want them to take care of all the details. That's how we want to treat our clients. For example, they may say, 'I want a social contest,' or 'I want a mobile application,' or 'I want a campaign that will attract new business.' We take those ideas from concept to completion for them.
There's no business out there that is structured like JH Specialty and that does it like we do. Other companies outsource this or that, whereas we do it all in-house. That's why our motto, 'A Partner You Can Rely On,' is very rare.
Blomquist: Why does everyone have a Nerf gun in their office and explain how that ties in with your "Beanbag Room."
Henry: I'm a big believer in the philosophy of 'work hard, play hard.' I want people to enjoy coming to work every day. We work hard here. We've made a name for ourselves in the web and application development arena, and we are able to take projects from concept to completion in a relatively short time frame. At the same time, we want to offer stress relievers—like shooting each other with Nerf guns. Don't get me wrong, we still have to get the job done. That's how we pay the electric bill. We just don't want it to feel like a typical corporate atmosphere. The Beanbag Room is another part of that relaxed atmosphere. It's a place where we can shut the door, relax and play video games. We have an Xbox and Wii, a ping pong table, putting green, poker table, three TVs and some of the biggest, most comfortable beanbag chairs you'll ever find. I've taken people on tours of the building and walked into this room to find somebody sleeping in a beanbag chair in the middle of the day and that's totally fine. It's not always about how many hours you work; it's how many quality hours you work."
Blomquist: So, what's the deal with that pink building on Maumee Avenue that says "John Henry Marketing Group" on it?
Henry: That's not mine (he says with a laugh!). That used to be my dad's business. It's no longer open, but that's where I got my start as a marketing intern. Now, my dad works for JH Specialty as an account manager for Your Promo People, the promotional side of our company.
Blomquist: What sets JH Specialty apart from the competition?
Knothe: We're a custom shop. We don't use templates to fit our customers' designs. From a web or application perspective, whatever the customer can dream up, we can design.
Diefenbach: Everything we do for our clients, we do as if we are the ones who own that business. We want them to know that when we make decisions for them, we have their best interests as our priority. By using our expertise in technology, we come up with solutions for any kind of challenges our clients face.
Henry: We're a relationship company. When we're working with a client we're building a relationship with that client. We work with local companies as well as companies across the United States and Canada. We currently have projects going in New Jersey, Toronto and California. We're also in the midst of adding a satellite office in Indianapolis to better serve that geographic region. But what really sets JH Specialty apart is the people who work here. They make us unique. I'm very proud of the fact that the company recently received a Gold Addy for a very successful Facebook® contest for Munchkins®, one of our clients that has a global brand. Everyone here is diverse and really knows what they're doing, which creates a fun, family, team environment. Our customers notice that.