We've given out candy, had our turkey, and wrapped all the presents. Let's face it, 2019 has been a lot of work. Now, the time is coming to review our successes and look for ways to improve next year. One important area for your website is mobile optimization. This is not only recommended, it is essential if you want your pages to rank well. So, before 2020 begins, let's discuss the Mobile-First Search Index.
What is it?
Contrary to popular belief, people who search for an answer on Google are not searching the web. They are searching through Google's personal collection of webpages. Building this collection is not automatic. Extensive work goes into making Google's results as helpful and organized as possible. Each answer that is shown had to first be discovered, reviewed, and ranked. But how does all of that information turn into the search results that millions of people depend on every day? Google stores all of the results from this review process in a massive index that it updates constantly.
Desktop just isn't gonna cut it
Just as libraries organize their works by the Dewy Decimal System, Google has always organized its results by the desktop versions of webpages. However, in July 2019, they decided to make a change. Google opted to start using the mobile version of a website to determine its ranking instead of the desktop version. This does not mean that there will be two separate indexes or that desktop does not matter anymore. (That would be Mobile-Only instead of Mobile-First). Instead, it just means that mobile pages will be considered over their desktop counterparts.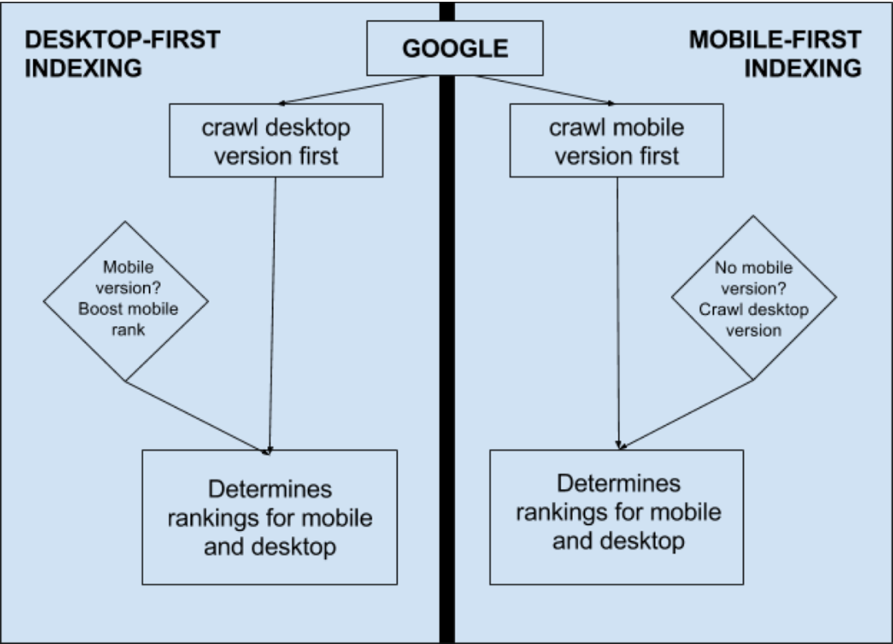 Yes, it will make a big difference
For the time being, Google is giving websites without a mobile version a grace period. Desktop sites that existed before July 1, 2019 will continue to be indexed and displayed in the search results. They can launch their mobile version at their own convenience. However, there is no guarantee that they will rank as high as the websites that have been optimized for mobile use. Any sites created after that date will automatically be indexed by the mobile-first format.
For websites that have both a desktop and mobile version, the mobile one will carry more weight. It will be important for those with a dual setup to review their work to ensure their mobile pages include all of the same detailed information that the desktop ones do. Otherwise, they risk having all of those features not show up in Google at all.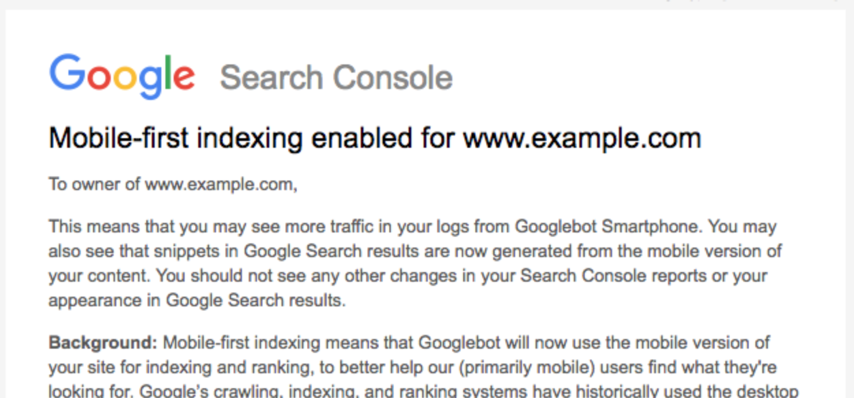 Start preparing for the future
Longevity: While Google has a history of reversing or dialing back new measures, mobile is likely here to stay.
Accessibility: Google is expected to start placing a higher emphasis on ADA measures. Currently, lack of compliance is more of a legal issue than a technical one. While your search results will still rank, webpages that have not been optimized for screen readers (among other things) could lead to discrimination charges being filed in court.
Artificial Intelligence: Ultimately, the mobile-first initiative is a just a steppingstone on the way to Google's long-term goal: an AI rollout. They said so themselves in their CEO, Sundar Pichai's, 2016 Founders Letter.
Your Resolution Checklist
There are several things people can do to help boost their site visibility.
Content: Double check content to make sure it is high quality, indexable, crawlable, and that it matches between desktop and mobile.
Search Console Verification: Make sure that both versions of their site, desktop and mobile, are verified within Google Search Console. This ensures that they will still have access to all of their data and messages.
Server Capacity: After the update, mobile sites are likely to have increased traffic from both users and Google's crawlers. Checking on server capacity will help to prevent a site from crashing.
Stay up to date: Google keeps a Change Log to notify users about any updates concerning the Mobile-First Index rollout. This is a great way to keep track of new announcements.
Going into 2020, let's pledge not to lose any more traffic on a desktop-only site. Unsure of where to start? We would love to help! Email us today to schedule a time to speak with one of our knowledgeable Account Managers.