I bet you can't go a full day without either being on social media or having someone around you reference something they saw on social media. It's kind of a big deal these days. And it's not just for the kids! Every demographic is growing on one platform or another. If your company isn't participating on at least one channel, you are missing out. Let me walk you through 7 things you should be doing to keep on top of your social media presence.
1. Nail the Basics
Let's start from the top ... is your basic information correct? If it's been a while, do a quick social media audit. Double check that your phone, address, email and especially website information is correct. If someone is looking to get in touch with you, don't make them work for it. Be sure your contact information is accurate and easy to find on all your social platforms. Once you've got that correct, take a step back and look at your profile as an outsider. Do you have a clear logo image as your profile photo? Is the header graphic sized properly for desktop AND mobile visitors?

Keeping track of the ever-changing sizes of these images is hard and most likely one of them has changed since you originally created your business profile. There are a ton of guides out there, but I like this one as a quick-hitting reference to what sizes you should be using for each image on each social site.
2. Relevant and Timely
Make sure the information you're providing on social media is timely and relevant to your business. That doesn't mean you can't post about the local fair - but make sure it has a tie back to your business.
"We're looking forward to showing off our hometown pride during the parade on Saturday! What's your favorite event?" is a much better post than "The city fair is this weekend. Are you going?".
Regardless of which post you use, make sure you follow up on comments! Engage with your followers. They have taken time out of their hectic feed to comment on your post or share a story with you; it's only right that you take the time to respond. Make sure your response is timely though. No, you don't have to sit around and wait for comments to roll in, but you should plan to respond to any comments within a reasonable amount of time. Speaking of time ... don't wait weeks or months to post about happenings around your office or in your industry. If you've won a major award, show it off. If a new law goes into effect that will impact your customers, tell them about it. There's nothing worse than holding onto content for months and then ultimately deciding it's too late to share it.
3. Plan It Out
My best piece of advice is to start small and build from there. Planning out your posts is key to making sure you stay consistent, but allow for wiggle room to stay relevant and timely. If you can only dedicate time to one post a week, that's fine. Maybe a few months from now you'll have an intern who can help generate additional ideas or an opening in your schedule to spend more time engaging your customers. If you are consistent with your posts, your customers and followers will begin to know when to expect something from you and will be on the lookout and more engaged with your posts.
4. Perfection is Overrated
The best posts are the ones that show you are real people. Sure the perfectly curated photos and graphics are nice, but people want to know the behind-the-scenes, insider scoop stuff too.
A team photo of your employees grilling out will probably get more likes, shares, and comments than a graphic you create with your company slogan. Have fun, showcase what makes your company different, celebrate employee milestones, do whatever you can to remind your followers that real people work at your company!
5. Video Rules
Let's take this back to Marketing 101 and the KISS principle (you know, Keep It Simple Stupid, do they still teach that?). Beautifully polished, full-length videos are great for your website and your YouTube channel, but on Facebook or Instagram, it's all about quick hitting, engaging videos that make your followers pause. The perfection rule (or lack of perfection) applies here too. We posted a short clip of our owner flying his new drone in the office to Instagram. This generated more engagement than anything else we posted that month. Give it a shot!
6. Repost and Share
Don't reinvent the wheel! If someone shares something good in your industry, pass it along. Creating unique content is hard, we get it, we've all been there. Include in your plan to share or repost something that someone else created. Just make sure you add in your own thoughts when sharing.
"Have you seen the latest FAA approval by Amazon for drone delivery? Imagine getting your next order from us via drone!" then link to the article.
You can also use sharing and reposting when your customers mention you. Retweet their mention of how much they love your product with a comment about how it's an office favorite and you're glad they are enjoying it. Sharing what your customers or followers are saying is an easy way to stay engaged and put out unique content.
7. Get Everyone Involved
Get started during the planning of posts - I bet Accounting has a different idea from Manufacturing on what you should be posting. Accept any and all ideas when trying to plan your posts. Even if an idea doesn't make it to the plan, it may spark another idea to keep things fresh and creative. Don't let the involvement stop there! Here's a quote I keep tacked to my wall and remind our office of frequently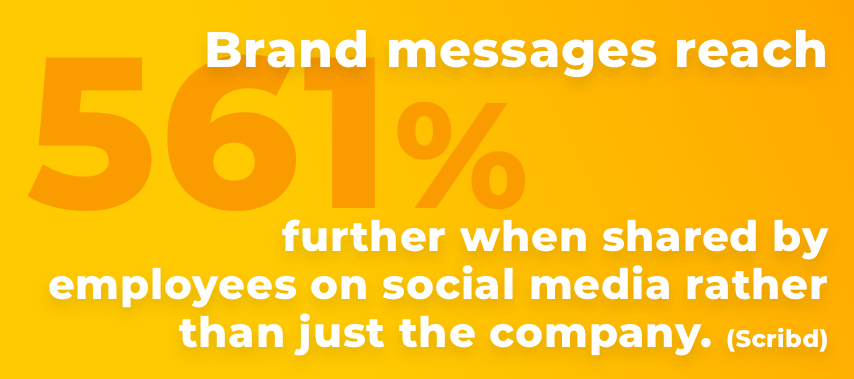 This is huge! Your brand only has so many connections, many of those connections are your employees. Encourage your employees to like, share and comment on your social posts. Their connections are wider than your own brand, so leverage that!
Now let's recap:
Nail the basics so people can contact you
Be relevant and timely with your posts
Plan it out so you don't feel overwhelmed
Remember perfection is overrated
Video dominates social channels
Repost and share, especially from your customers
Get the whole company involved
There you have it ... 7 ways to up your social media game. What are you waiting for? Get started on #1 now!