Background
I like chicken. You name it – fried, grilled or baked, I'm probably a fan. As it turns out, I'm not alone. In 2018, Americans consumed 46.3 billion dollars' worth of the food. Popeyes, recognizing the craze, decided to take advantage of our insatiable need.
Back in August, they released a new sandwich that transformed them from an average fast food joint into a nationwide powerhouse. In fact, it sold out after just two weeks. Customers watched their parking lots pile up with lines that wrapped around the block. The media couldn't stop covering them. Even their competitors, hoping for some of the attention, kept mentioning the brand on social media.
But how did they rise from an underdog into a fan favorite competing with the likes of Chick-fil-A and Wendy's? With a strong digital marketing campaign. Luckily for you, we worked around the cluck (sorry!) to map out their strategy. In this article, we'll sum it up with the three key tactics that took them straight to the top.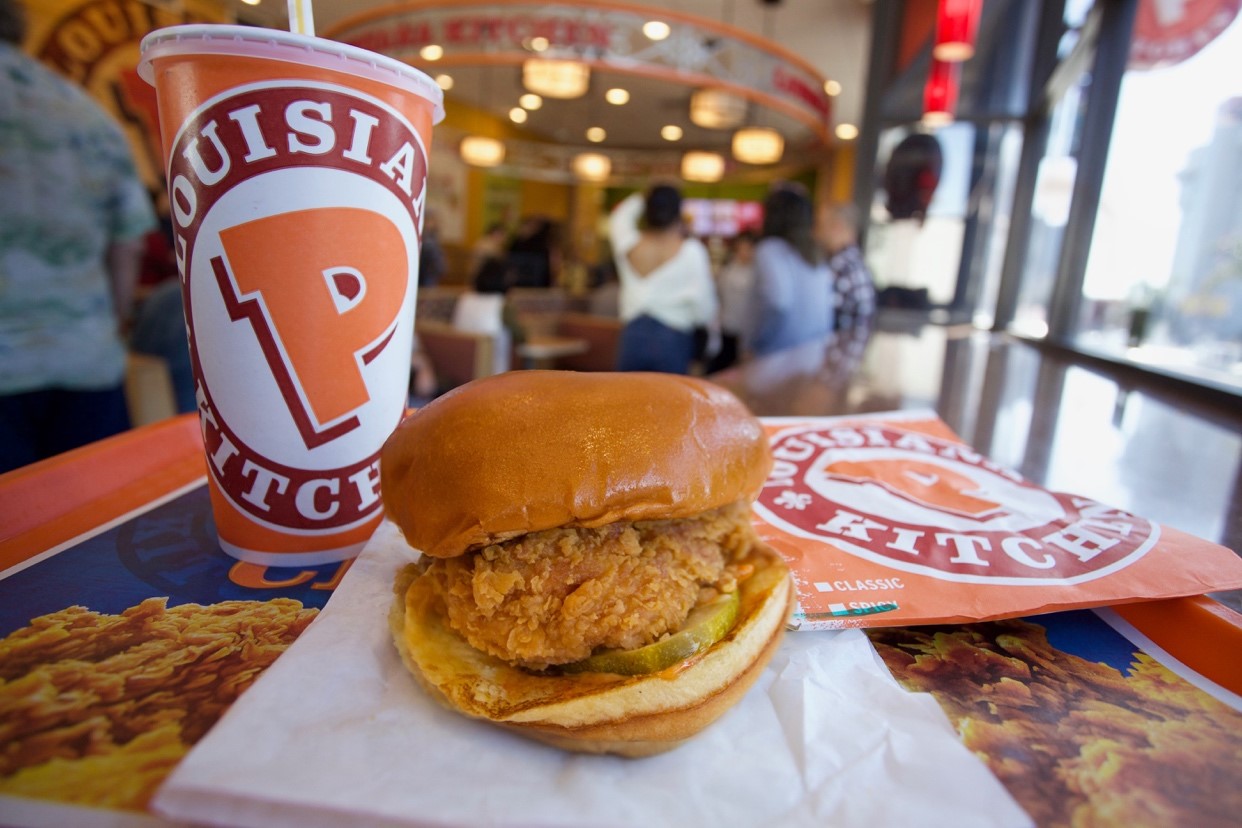 Speed
To begin, let's talk about speed. information travels quickly in today's social media climate. Shortly after the sandwich's release, Chick-fil-A sent out a tweet claiming that they were the masterminds behind the 'original' chicken sandwich. (Insinuating that other brands were all just copies). Popeyes fired off a shady response, "…y'all good?" within fifteen minutes. Their followers loved it. The tweets picked up thousands of responses and fueled heated debates both on and off the platform.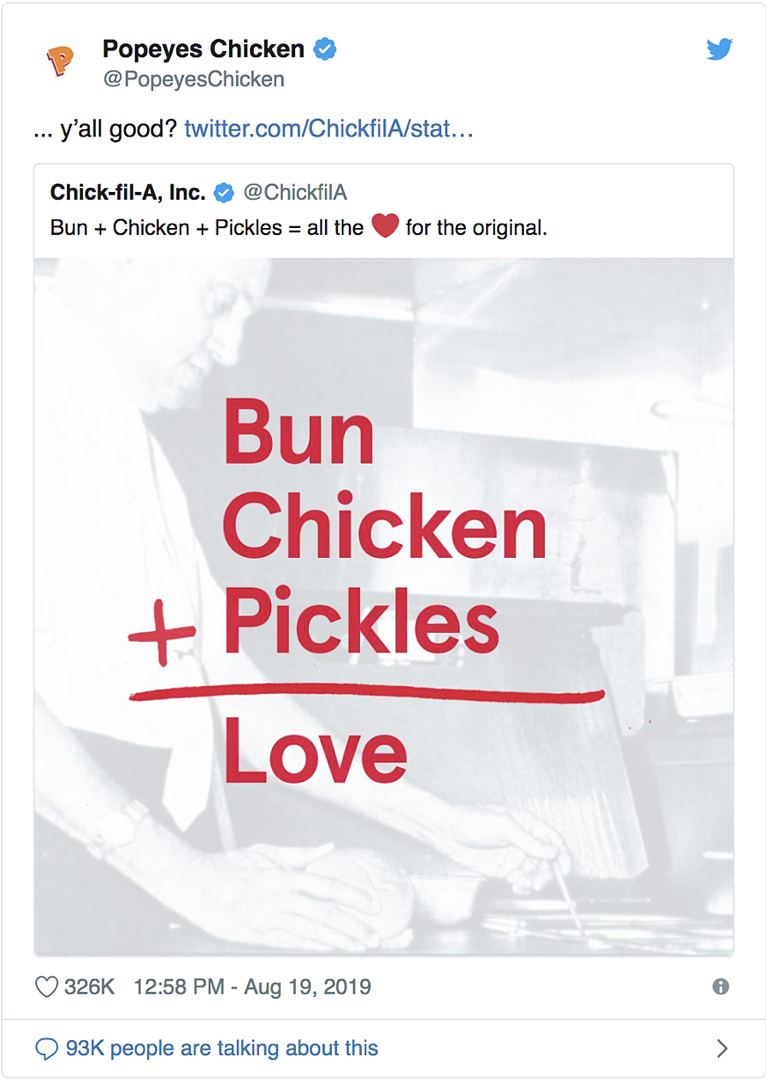 This demonstrated how well Popeyes understands social media. Your followers move fast and they expect the same from you. Brands should discuss their tone and protocols in advance so that, once a campaign goes live, the internal team can respond as quickly as possible.
Engagement
The second essential part of their marketing strategy was organic engagement. They recognized the importance of letting their fans interact naturally with the brand. They didn't release pre-designed memes. They didn't shoot staged commercials. And, they didn't try to guide public opinion with their own hashtags.
Instead, Popeyes let their followers take the lead and be a part of the conversation in their own way. When people laughed at the chain running out of sandwich buns, they poked fun at themselves with a BYOB (Bring Your Own Bun) initiative. When the media ran taste tests comparing their sandwich with others, they encouraged it. They couldn't have known for sure that their product would come out on top, but it was a hit.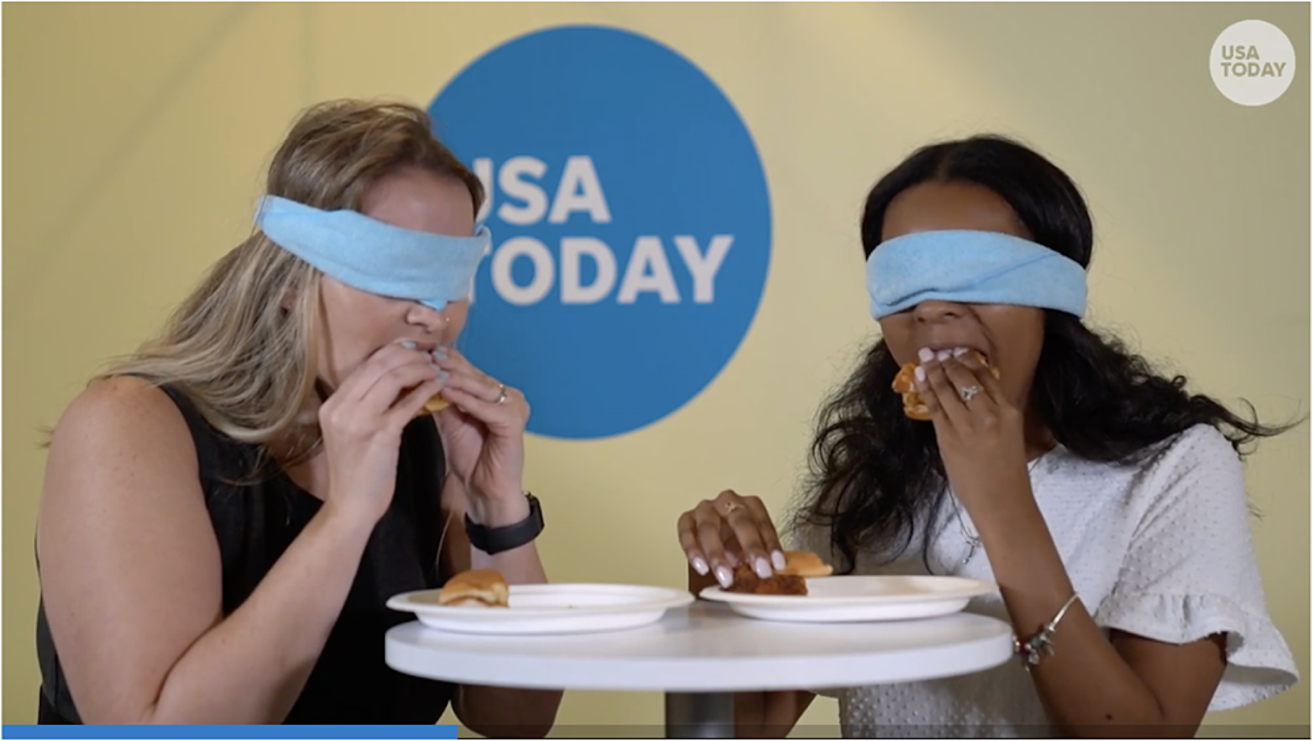 Flexibility
Lastly, Popeyes recognized the importance of being flexible when it comes to brand strategy. The chain had originally planned to make television commercials an integral part of their campaign. But as their social mentions kept rising, they scrapped the plan altogether and focused solely on a digital strategy.
Fernando Machado, global CMO for Burger King and Popeyes, said that, "Normally, we do a lot of TV, a little bit of digital, and really push on launch – here we have the most successful product launch since I started six years ago, and it involved zero TV advertising."
Even with all of the planning in the world, no one can truly predict how a campaign will turn out. The best marketers have learned to go with the flow and make changes when needed, even drastic ones.
Takeaways
In the digital marketing world, speed, engagement, and flexibility are essential skills to master. Popeyes demonstrated this perfectly and raised the bar for other brands. If you would like to run your own social campaign, let us know. Our experienced digital team is always ready to help.
Now, the only question that remains is which sandwich do you prefer?