Showing posts by 'Sierra Grayson'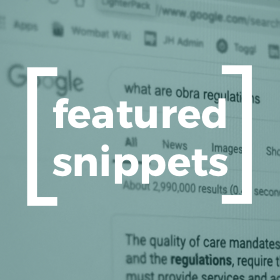 02
Optimize your pages for featured snippet potential
Optimizing for Featured Snippets can be difficult and time-consuming. We've put together a few tips and tricks to help get your page featured.

02
ADA and SEO work best together
SEO and Accessibility efforts can work in tandem. Dwell Time, videos, images, and page navigation are all topics to consider in your dual strategy.

02
Is your website prepared?
ADA Web Compliance has been thrown into the spotlight. What is it, and why should you care? We break down the highlights in part one of this comprehensive guide.